Since last November, bitcoin (BTC) has now lost 69.20% of its value since its all-time high. Is this the end of cryptos? Or is this an opportunity to be seized? Let's take stock of the situation of bitcoin in the long term.
Long-term chart analysis
At first glance, bitcoin is in a very strong long-term downtrend. Indeed, its price recently broke a significant support level around $30,000. Added to this is the fact that the price is yet to break above the weekly 200 Moving Average.
At this rate, the price of digital gold may go down again. Under the worst-case scenario, its price will reach $10,000, an 85% drop. Let's stay alert, there is no sign of a change in trend at the moment.
For some, this meteoric decline signals the end of cryptos. Indeed, they think that their value will continue to deteriorate since they are overvalued assets. Others, who are confident in the fundamental value of BTC, believe that this drop is a historic buying opportunity.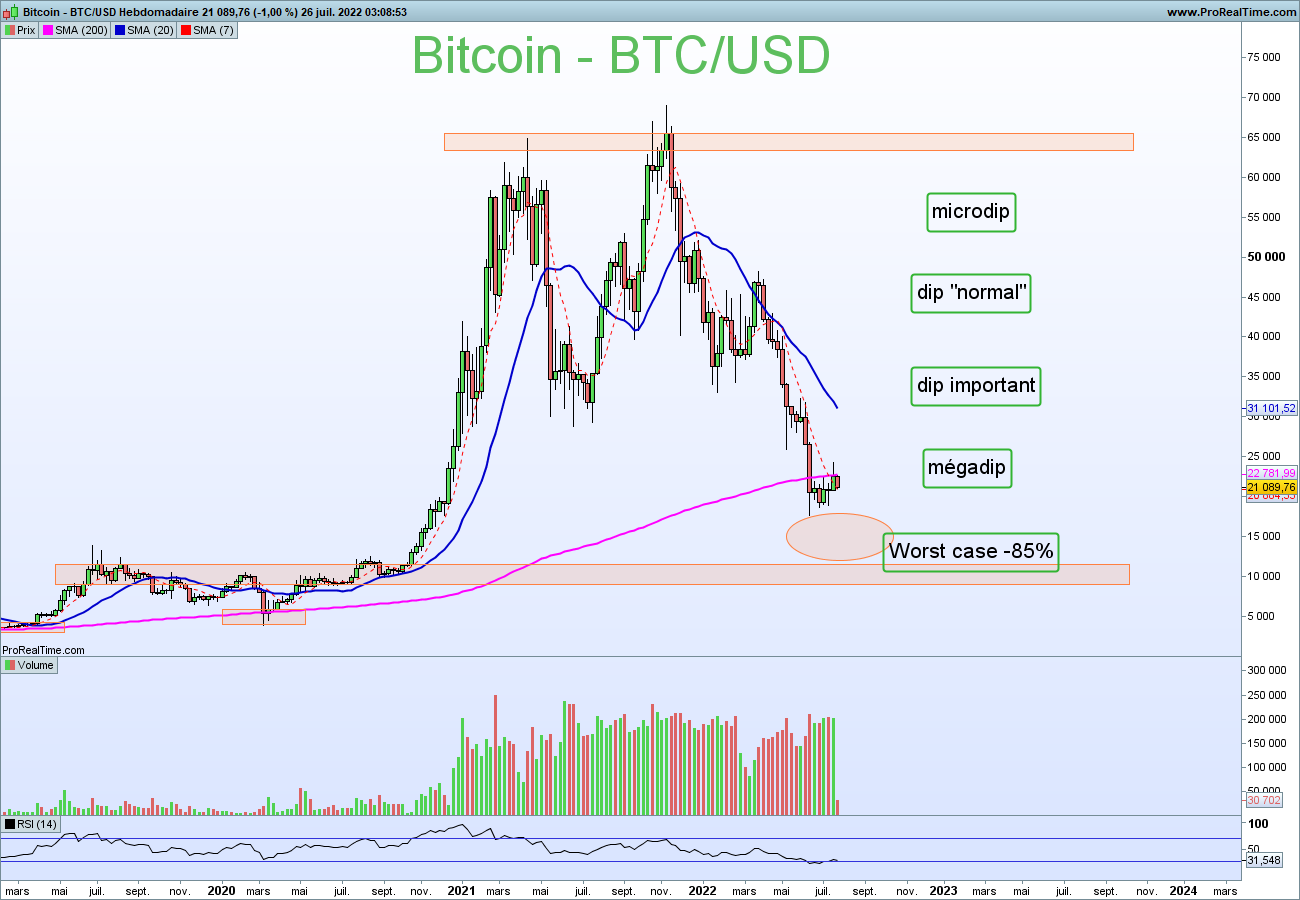 What should be done ?
In the long term, the crypto market, led by bitcoin, is facing a great depression. So far, there are few signs that the price of bitcoin is going to start a long-term uptrend.
For the moment, the best thing to do is crypto trading by taking short positions in the short term.
Nevertheless, here are the elements to watch out for not to miss the next train towards $60,000 and beyond:
The 200 MA (moving average 200) over a weekly period;
The volumes;
The key levels ($10,000 and $30,000).
Is bitcoin (BTC) a long-term future?
It is certain that bitcoin has a long-term future. Its value is supported by very solid fundamental projects. With the advent of Web 3.0, it is certain that cryptos will have their place in modern finance. This drop in price may be an opportunity to buy bitcoin (BTC) at a low price. Remember, patience is golden.
Receive a digest of news in the world of cryptocurrencies by subscribing to our new daily and weekly newsletter service so you don't miss any of the essential Cointribune!
The Cointribune editorial staff
SEO Web Editor for 3 years, I specialize in crypto currencies, blockchain, trading, and NFTs.