Lyon, Paris and soon Angers… Ligue 1 should have 11 foreign-owned clubs by the start of the school year. An attractiveness partly linked to the lower value than the other championships.
Olympique Lyonnais is the latest… Jean-Michel Aulas' club finally went under the American flag this summer. It is the billionaire John Textor who takes control of 66% of the shares of one of the most successful clubs in France. An operation at 800 million according to Forbes.
With the probable takeover of the Angers club – also by an American fund – Ligue 1 could have 11 foreign-owned clubs. Lille OSC, Clermont Foot, OGC Nice… French clubs have been reselling with a vengeance in recent years.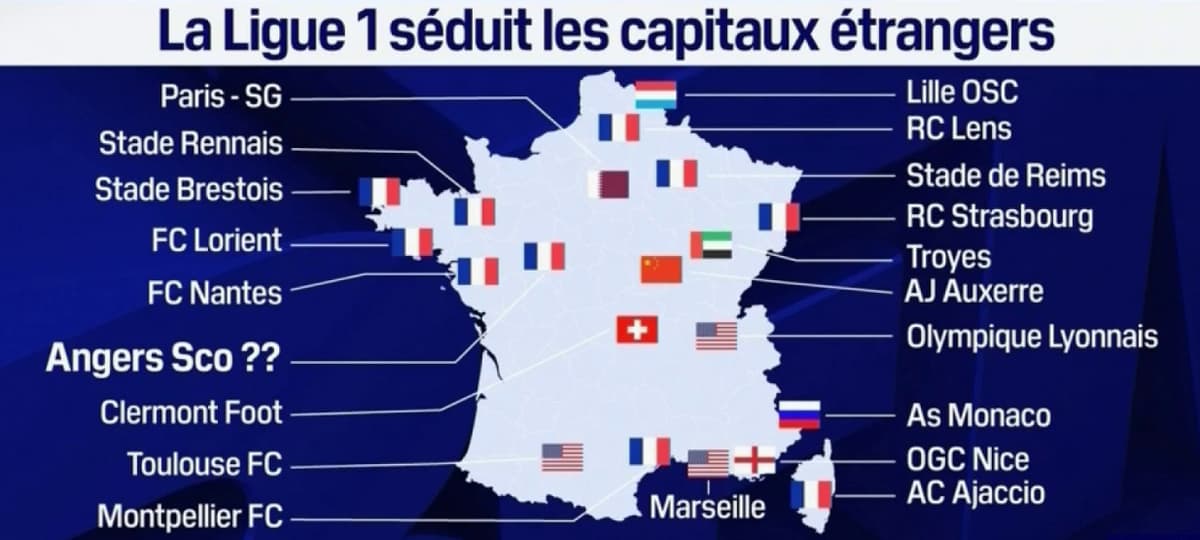 How to explain such attractiveness? The low entry ticket compared to other European championships is part of the explanation. France, the second country that exports the most players, a whole lot of good opportunity. Because it is the prospect of a capital gain on sale that can motivate owners. On this level, the Football League (LFP) and CVC – the fund which invested in its commercial company – are optimistic for French football. In particular, they believe that TV rights will increase in the years to come.
Change model?
It must also be said that the clubs have suffered a lot due to the pandemic but also because of the Mediapro fiasco with a fall in TV rights which must be renegotiated this year. Is Ligue 1 worth more than a billion euros as the LFP deactivates? "We have to wait a bit for what the market will reveal to us", tempers on BFM Business Luc Arrondel, research director at the CNRS and specialist in the economy of football.
"The weak point of Ligue 1 is international rights, he continued. When we see that they amount to 85 million euros for a championship that has PSG in its workforce, it's very weak. For comparison (…) the Premier League has as many international rights as domestic rights, of the order of two billion euros.
This year will therefore be crucial to relaunch the machinery and hope to increase the value of the championship. A condition to make it an attractive league, on the sporting level. "If you have a league that ensures its financial equilibrium solely through the sale of its best players, that somewhat harms the selling point", underlines Luc Arrondel.
Thomas Leroi Journalist BFM Business